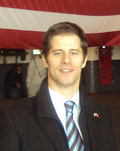 Pedro Ferreira , Senior Commercial Specialist at U.S. Commercial Service
http://www.export.gov/portugal
Bilateral Meetings
Morning slot (10h-13h)
Afternoon slot (14h - 17h)

The U.S. Commercial Service is part of the U.S. Department of Commerce with over 100 offices located across the United States and offices in U.S. Embassies and Consulates in nearly 75 countries, our global network of trade professionals connects U.S. companies with international buyers, providing them with market intelligence, trade counseling, business matchmaking, advocacy/commercial diplomacy support.
Country: USA
Organization Type: Government
Organization Size: 1-10
Areas of Activities
Offer
Assistance in doing business overseas
We help U.S. companies do business overseas by finding agents, distributors, representatives, and end users for U.S. products and services. Our services include due diligence, market research, matchmaking, promotion of U.S. products and services at trade events and so much more.
Offer
Locate U.S. products, services, and business partners
Whether you are looking for U.S. products, services and business partners or interested in investing in the United States, we offer the expertise you need to connect with new and valuable business opportunities.